The topic of San Diego Cloud Computing is designed to act as a guide for businesses that are looking for partners that can assist them in overcoming challenges associated with Cloud computing. The agenda is not to make recommendations for specific businesses, but to educate to help them solve their problems.
The greater San Diego Metropolitan has a population of about 3.5 Million people and over 100,000 businesses. When searching for a Cloud partner, you may see value in working with a local group that is part of the local IT/Tech ecosystem. The area has many choices for Cloud solutions, many of them have been in the business since before the term "Cloud" was coined. This blog will highlight what kind of providers are out there and how to differentiate them. Today there are 100's of Cloud Companies in San Diego County, each with unique business models.
Types of Cloud Services and Companies
Infrastructure as a Service (IaaS)/Public Cloud
The major public Cloud providers are Microsoft (Azure), Amazon (AWS) and Google (GCP). Conceptually, they are all remarkably similar as they offer a multitude of plans that can fit pretty much any need in minutes. These companies are considered Hyper-Scale providers and have thousands of servers at many data centers scattered across the globe. They have also built out an ecosystem of turn-key features and toolsets to complement their base computing services. Most of the public Cloud services are multi-tenant, meaning that other (anonymous) companies will share the infrastructure with you.
Advantage – Secure when properly configured, readily available and highly scalable.
Disadvantage – Can become awfully expensive, native tools may not be better than other options, performance is lower than on dedicated machines.
IaaS/Private Cloud
There are options from many providers to get Dedicated computing resources, or a private Cloud. This is a custom-designed infrastructure that meets the requirements of the client that will leverage the services. This could technically be leased or even just procured the old-fashioned way and built it yourself.
Advantage – Better Security and Controls, Match Personal Preferences/Tools, Better Performance, and no miscellaneous fees for usage that are common on public Cloud systems.
Disadvantage – This solution can be expensive and may require more work setting up and delivering as a solution. Scaling is slower than a public Cloud.
Platform as a Service
Many larger Cloud providers have development platforms where you can use their core system to build application specifically using API integrations. With this, there is no need for an Operating System and the associated management of that layer.
Advantage – Great flexibility and lower costs, especially at scale.
Disadvantage – This is not a fit for everyone, and it requires a sophisticated skill set to take advantage of.
Application Service Providers (ASP)
ASPs deliver traditional client server software from a hosted environment across the internet using server connectivity tools like Remote Desktop Protocol and Virtual Application delivery. These companies are just hosting, they do not develop the third-party software they are delivering.
Advantage – It is a great way to have traditional software delivered – flexible and cost effective.
Disadvantage – This model can be cumbersome, depending on the application. There is a clear movement in the industry to move applications to web-based Cloud solutions, so this is quickly becoming irrelevant. These companies generally have a specific business model and only solve one problem.
SaaS (Software as a Service)
SaaS is a hosted application that is accessed through a web portal. The end user does not have to worry about any servers, they simply subscribe to the software and pay monthly for the service. Most software developed today is in the model of SaaS.
Advantage – Easy to use and can be access from anywhere.
Disadvantage – Costs can start to add up, especially at scale. Managing SaaS applications creates new challenges for corporate IT from a security/policy perspective.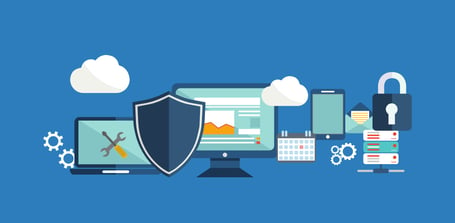 Types of Cloud Partners
Managed Service Providers
San Diego has over 100 Managed Service Providers, a majority of them are small 1-2 man shops. About 10% of the MSPs in the San Diego Market have their own Cloud services that they have built to support their clients. Most do not get into his space as it requires a lot of capital to initiate. An MSP with their own infrastructure can assist their clients with hosting because they already have the core infrastructure set up and can scale it accordingly.
Advantage – MSPs that have Cloud Services are usually very strong when it comes to Server and Hardware infrastructure management. They can deliver boutique management with 100% control over their own environment.
Disadvantage – A small shop with their own infrastructure will not be able to scale like a giant public Cloud company like Microsoft or Amazon. They would not be appropriate for a large-scale social media site.
Data Center Operators
San Diego has 4 local Data Center Operators that are headquartered in the City and 5+ more that have a point of presence within the boundaries. Data Center operators or Colocation companies' core business is to provide environmental controls so that they can sublet rack space to businesses that want to be in a secure facility with Service Level Agreements around uptime etc. Most Data Center operators have built out Infrastructure that they host to power solutions for their clients.
Advantage – Data Center operators already have the bandwidth and facilities to support a Cloud offering so it is a natural fit to invest into a Cloud offering.
Disadvantage – Many Data Center operators have little experience running/managing infrastructure from the point of a system admin. So, there could be trouble depending on the level of expertise required.
Cloud Service Providers (CSPs)
Since most Managed Service Providers cannot afford to invest into building out their own infrastructure, they can simply re-sell Microsoft Azure or AWS to their clients. Microsoft has a generous distribution model that allows partners to incorporate Azure into their solutions so that they can make a reasonable profit by selling it.
Advantage – CSPs are trained to use all the tools and know Cloud systems inside and out. They can manage services on public Cloud infrastructure and can spin it up on demand.
Disadvantage – Because a public Cloud is "someone else's server," there is a level of control that the CSP will be missing. This also opens the door for anyone with basic knowledge to call themselves a CSP. Hopefully, they really know how to manage critical server infrastructure.
Agents/Resellers/Consultants
This group is not so much a provider, but a facilitator of services though defined sales channels. These groups are generally small, 1-2 people shops that are focused on delivering their experiences to their clients. They work with trusted vendors and can sell their solutions as an indirect salesperson or broker.
Advantage – These teams are extremely knowledgeable about products that they can deliver to their end users.
Disadvantage – They do a good job of attempting to be non-biased, but they are still compensated based on their recommendations. Sometimes they do not have enough engineering support to fully understand the customer's requirements.
Thoughts and Considerations
Not all businesses are the same, and this is specifically important when dealing with Cloud service providers. With so many companies in the space today, there is a wide spectrum of quality. The average consumer or business cannot just go and look under the hood, so there is no way of telling if the operation is as good as the marketing. I would like to point out some warning signs to keep an eye out for when evaluating partners:
Does the salesperson know what they are talking about or are they regurgitating a bunch of buzz words?
Is their salesperson accompanied by a technical authority that keep them within the scope of the project?
How's the company's reputation, is there turnover? Glassdoor.com usually paints an accurate picture (although most people leaving give negative reviews).
Is the business run by people that understand the technology or are they only concerned about numbers?
Are they selling solutions to your problems or simply selling products?
Are they guaranteeing absolutes without even knowing the path (guaranteeing 100% uptime simply because it is the Cloud)?
Are they really listening and understanding your pain?
Do they have a specific roadmap to achieve your goals?
How Mindcentric Leverages Cloud Computing
Mindcentric is a Managed Service and Cloud Provider with core operations in San Diego County, and presence in LA, Las Vegas and Maine. For 20 years, we have worked with businesses of all sizes to build and manage critical systems. Today we have 20 employees, 2 data centers, and 200+ customers. The following highlights some of our achievements:
Enterprise Cloud Infrastructure in Las Vegas and Reno, NV – Both Tier 5 Rated Facilities (Switch)
Engineered and Managed Critical/Private Infrastructure for 20+ Software Vendors, across multiple verticals, where we act as the Dev/Sec/Ops group to complement their internal teams.
Currently delivering hosted applications to over 20,000 users across the globe.
Work with businesses to achieve security objectives to meet regulatory compliance (NIST, HIPAA, HITRUST, SOX etc).
Deliver Virtual Applications and Desktops to businesses across the Globe.
Manage legacy client Investments inside 3rd party data centers
Provide Virtual CIO services to businesses of all sizes
Leverage Public Cloud for true Hybrid Solutions
Maintain CSP agreements with Microsoft Azure and AWS
We compliment our solutions with proven/vetted tools that work across most Cloud infrastructures.
Mindcentric's goal is to listen to our clients and develop a solution that specifically addressed their needs. Our experience is a benefit to our operation, and we convey that back to the businesses that chose partner with us. Our value is in delivering optimized operations that empower the employees with peak performance, accessibility, and security.