As a business manager, you likely are not too concerned about the day to day operations of your IT operation. What does matter is costs and worker productivity. This short blog will highlight the direction IT is moving and how your business will be impacted. Don't worry, it's all good news.
The answer is, the Cloud of course. Running your business from a hosted environment is not new, organizations of all sizes have leveraged Data Centers and remote access software for many years. It is gaining popularity due to advances in Cloud technologies and the new requirements for a mobile/work from home environment.
Virtual Desktops?
Remember when Netflix moved away from mail in DVDs to streaming services? Pretty significant leap there, can you image ever going back to the old way? The concept is simple, deliver streaming services in high resolution from the cloud, on demand. This is now easily attainable with IT services, including your desktop.
All that is required to stream the service is an Internet connected device, including PCs/Desktops/ Tablets and even Smart Phones. There are also low-cost streaming devices, called Thin/Zero Clients that can deliver your desktop solution all together. With advances in virtualization technology, the hardware can even deliver USB connections to the cloud from the device.
Security
The beauty of a hosted IT operation is that it helps centralize all the management and security, delivering a complete solution as a service. This means, all the security and day to day maintenance is included in the package.
Not only does it centralize the management, but it can significantly limit the accessibility of data and systems to each employee. This is particularly useful for businesses that have regulatory requirements and need to have measures for managing and preventing data leakage, and the spread of malicious attacks within the network.
Case Study – IT from the Cloud vs Traditional IT Operation
For the pricing exercise, I am going to use some basic numbers to create the model. For the sake of simplicity, I am going to use a company with 100 employees, 2 specifically designated for running the IT systems, and 5 servers. This is a generalization of course; every business is different and maintains unique needs. Pricing is also generalized to averages.
The average salary for an IT Manager in Southern California is $125,000/year or about $10,500/month. The Average IT Admin in Southern California is $75,000/year or about $6,250/month. Everything else has generic costs amortized over 36 months (standard IT depreciation). This does not include various software requirements that are included with desktop streaming such as System Monitoring, Help-desk/Documentation, Disaster Recovery etc.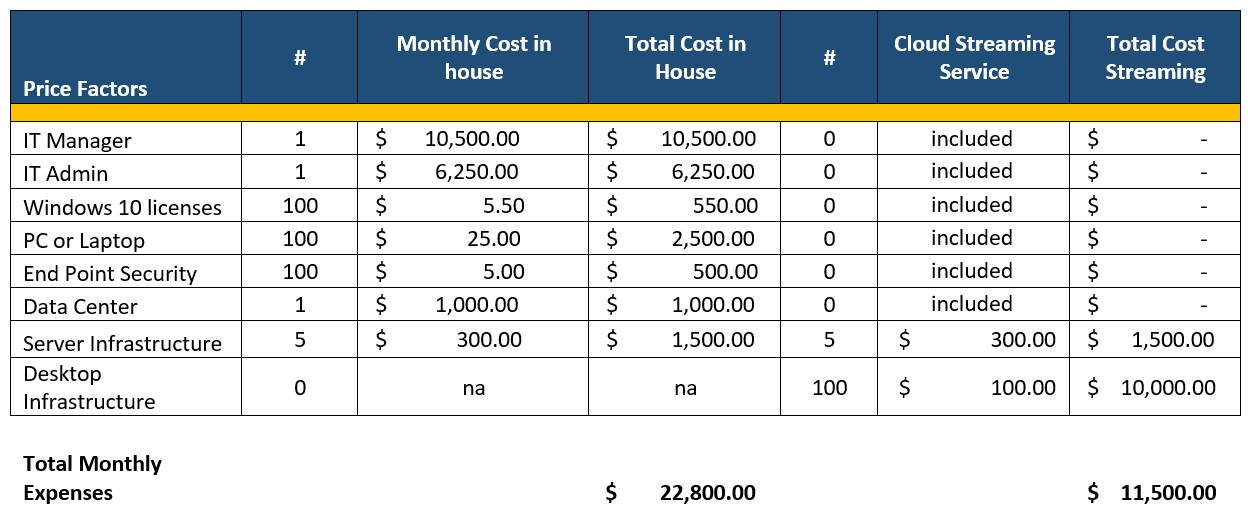 Case Study – IT from the Cloud vs Traditional Managed Services
This is also a great example to demonstrate the value of streaming IT vs having a Managed Service Provider handle your IT Operations. The following breakdown uses industry pricing averages ($70/seat and $250/Server) to create the model. Surprisingly, moving to a complete virtual environment still lowers monthly expenses.
What to Expect from the Experience?
With advances in Cloud/Internet technologies, we are now able to stream a desktop experience over the Internet extremely well. For the most part, users would never notice the difference from a performance perspective. What they will notice:
Applications will launch faster
Machine will boot faster
All Applications will run the same as usual
Can still use Soft phones/VOIP over the wire
No need for VPNs, employees can launch Cloud sessions from home PCs with a click of a button
Potentially more integration between apps
Streaming Device (Thin Client)
Since we are now streaming our experience over the Internet, we don't need a computer. Mindcentric has partnered with Stratodesk to deliver high performance streaming devices that deliver the following:
40 frames per second
4K HD Resolution
Dual Monitor via HDMI
Multiple USB Ports
Audio/Visual Components
Here's what your new "Computer" looks like (approximately 4 x 4"):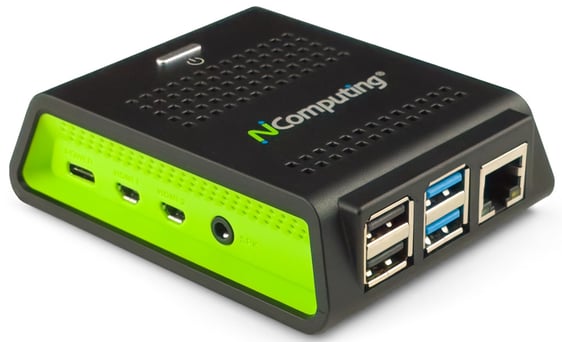 Mindcentric and Virtual Desktops
Mindcentric is a Cloud Service Provider and Managed Services company that specializes in web technologies. We build customized IT infrastructure to support your business from the Cloud. We have been working with Virtual application technology for 20 years now, our goal is to deliver the best solution with an incredible value to achieve a long-standing relationship.
Mindcentric owns and operated multiple Data Center investments and partners with Citrix, the world's leading virtual desktop software. We look forward to working with you.